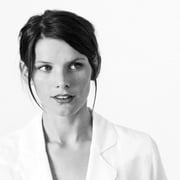 Gesa Hansen was born in Arnsberg in 1981. After her design studies at the Bauhaus-University in Weimar, she worked in the Paris Atelier of Jean Nouvel, in the graphic studio H 5 and at NDC in Tokyo. Her works have already been displayed on many expositions, such as the 100% Design Festival in Seoul, the Design Shop Artlab in Brussels or the Designmai in Berlin.
Gesa Hansen works as independent designer in Paris and as art director of Hans Hansen since 2007. Hans Hansen, her father, produces woring, living and object furniture out of high quality materials in the eponymous company. The talent of wood, and furniture design is so to say her gift.
For her first collection, the Remix Collection, which appeared with the label "The Hansen Family", she earned international recognition. Furthermore the Remix Series of the Hansen Family has been honoured with two Red Dot Awards, the Good Design Award of the Chicago Anthenaeum as well as she has been nominated for the design award of the BRD (Federal Republic Germany).
Website by Gesa Hansen