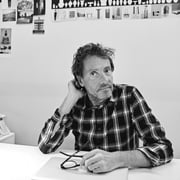 Artistic objects from Paris
Pierre Charpin was born in 1962 and graduated from Beaux-Arts de Bourges in 1984. The artist has dedicated himself to furniture and object design since the early 90s. His approach to design is strongly influenced by his artistic background. Pierre's research into form and colour characterises his works and can be seen both in limited editions and in industrial products such as Hay's PC lamp. The use of simple and elementary forms is a constant aspect in his creations, as is the desire to create sensual objects. A sketch, which he uses as a starting point for his designs, is an essential part of his creative process. The works of Pierre Charpin have been shown in exhibitions all over the world and can be found in many renowned museums.
The designer, who lives and works in Paris, was voted Designer of the Year by Maison & Objet in 2017.
Website by Pierre charpin