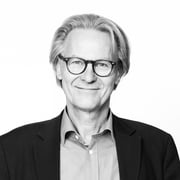 Poul Christiansen (born in 1947) has a degree from the Academy of Fine Arts and Architecture in Copenhagen. Then he worked for IB & Jørgen Rasmussen and founded the "Komplot Design" with Boris Berlin in 1987 - a design studio where many design challenges for well-known companies have been worked on.
Christiansen lives for architecture and design. As a freelance designer, he refined the design for Le Klint between 1969 and 1987, and brought innovative and exciting dimensions to Le Klint's lampshades. This way, Christiansen discovered that folding the umbrellas in mathematical curves, create a beautiful appearance of the the lampshades and a unique sculptural form.
His most famous design is the Sine Series. Thereby, sine curves are combined in a special way that produces a lamp shade. Typical characteristics of his works are the energetic design which is based on mathematics and from which interesting and decorative lamp shades emerge.
The impetus for his work are joy and satisfaction he feels whenever he finds new ways and can be creative. Over the years, the designer has created a whole series of lights for Le Klint.