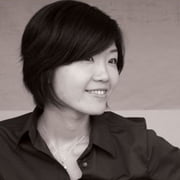 Traditional Craftsmanship and Modern Lines
Sakura Adachi is a Japanese designer, who studied Industrial Design in Musashino and London. Since 2004, Adachi lives and works in Milan, where she runs her own design studio since 2008. Her designs are influenced by her studies and the love of wood and are a combination of traditional craftsmanship and modern lines. Many of her products are self explanatory, which makes them functional and suitable for everyday use.
Sakura Adachi already cooperated with various international design manufacturers such as Fermob, Taschen or Riva and was awarded the Red Dot Award for her Eclipse fruit bowl in 2010 and won numerous other design awards.
She published some books on the subject of design, makes regular exhibitions around the world and since 2012, she teaches at various universities including the European Design Institute in Milan and the Art Academy in Pordenone.
Website by Sakura Adachi