Article from the 2015-04-17, of Anja Beckmann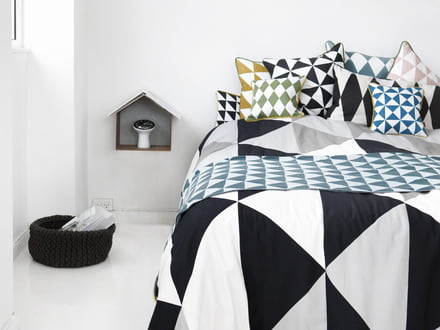 Live, sleep and work in only one room – after having lived in a shared flat for seven (student) years, you can trust my words. Whether in a shared flat or a single room – it is very difficult to fulfil all of our demands in a small place and get a pretty room. Unless you keep in mind these five furnishing tips…
There is one general thing: Bright and cold wall paint optically increase the size of the room. A slim line of white under a white roof makes the room look higher. Use these effects!
Tip 1: Transform your bed into a guest's lounge
You need a decent bed! If you want to learn something, you must sleep well at night. And a bed-sofa isn't suggestable for a long time. In order to save the bed from curious glimpses of guests and to organize the room apparently, you should use bedspreads. Look at our modern bedspreads by Ferm Living and Hay: These ones will transform your bed into an eye-catcher. The suitable Kissen in the back will let your guests relax comfortably. A sofa isn't really necessary anymore.
Tip 2: A desk with storage space – small and compact
The place you work at might be the most important one of your student's room. It is there where you spend your time, where all of the important desk documents should be accessible. The problem: There are many small things to be stored, which will make your desk look chaotic. The advantage: we all work more and more digital nowadays, which is the reason why the space we need is getting smaller still. Functional Sekretäre are therefore trendy. Contrasting multifunctional desks, secretaries offer storage space with smaller dimensions. People that ended their work for the day will be able to close the secretary leaving their work behind them. The desk will look tidy and won't need much space. Classic desks are also getting smaller and smaller. Expandable table tops offer more space to work and store things. Such a desk is the Remix Collection desk by The Hansen Family.
Tip 3: Hanging cabinets save space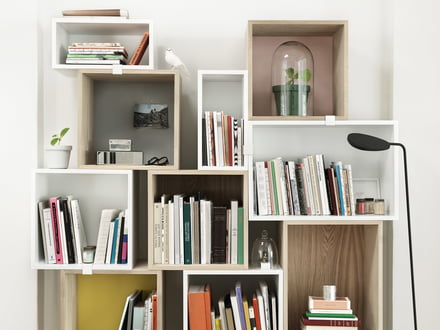 Clothes must also be stored. The classic cabinet is often bulky. Hanging cabinets – like the New Order hanging cabinet by Hay – can be installed over the bed, the door or the desk. The Frame von by Lassen is as well space saving: Different cabinet modules are individually combinable and fixed at the walls.
Tip 4: Use corners – with modular shelving systems
If the big furniture pieces have already entered the room, there isn't much space left in most of the cases. Instead there are many small gabs, corners and niches left. Use them! Shelving systems like the shelving system by String and Stacked by Muuto fit in every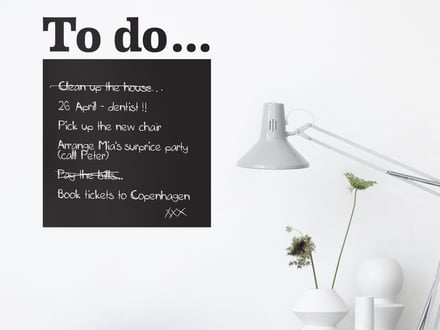 room and niche. Numerous different sizes and long modules – different shelves, wall and floor panels – are individually mounted. Cabinet modules keep things organised: There is a lot of space for small things, personal accessories or clothes in them. The desk can also be integrated in the shelving system. String is a master of space-saving shelves! Who doesn't like the simple office style, you should look at Muuto's Stacked. There it is about the creative utilization of different boxes becoming a shelf.
Tip 5: Accessories to discover and grin
For your very own style for your student's room. Be brave! The student's room is (or it seems to us) the last chance to be limitless creative. Mixing styles is allowed in here. Add personality to your room with individual things. The manufacturer Luckies offers versatile products for the walls. Countries you already were in are rubbed free on the Scratch Map. The Corkboard Map holds pictures and notes of your trips for you. Ferm Living offers a weekly calendar for the wall – the wall sticker This Week. This one will hold your ToDos for the week. The funny wall stickers – like the Zoo Cochon wall sticker by Domestic add something to discover to your student's room.

Wall Decor in our shop
Click the button to enter our Home Design Shop.
View now!
Conclusion:
There are many possibilities to live, sleep and work in only one room – even if there isn't much space. But please don't crowd your room. Think well about the things you usually use. All the other things can be stored in a different place: Winter clothes can be stored in practical
boxen
under the bed when the summer comes. Folders of past student years and Christmas decoration can be stored in the basement – as long as it is a dry basement. Is there still a bit of space at your walls? Hang a big mirror at them. This one will apparently enlarge your room.