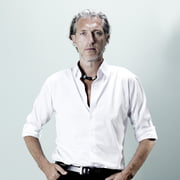 Marcel Wanders was born in 1963 in Boxtel/ the Netherlands.
After being expelled from the Design Academy in Eindhoven because he was considered to be unteachable, Wanders studied in Maastricht and Hasselt (Belgium) and graduated 1988 in Arnheim cum laude.
He started to work as a freelancing designer, and, since 1992, he became partner of Waac's Design & Consults in Rotterdam. In 1995, he finally founded his own design bureau "Wanders Wonders".
In 2001, he ceded the commercial part of his bureau which resulted in the emergence of the company Moooi which is managed by Casper Vissers and Hans Lensvelt. Henceforth, Wanders concentrated more on the own conceptions which he created in his studio, a former garage which is located in the worker part of Amsterdam Westerpark.
He caught international attention with the Knotted Chair which he created already in 1996 for the Italian manufacturer Cappelini. In the design of this chair, Wanders relates the traditional form of arm chair with new innovative material. An unlike marriage of traditional and industrial techniques. The "string", made of an aramide weave with a carbon-based core, is first knotted in the form of a chair, then the limp fabric is soaked in epoxy resin, after which is hung on a frame to harden. The chair was awarded with the Rotterdam Design Prize and is exhibited in the Museum of Modern Art (MoMA) in New York as well as in the Pinakothek of Modern Art in Munich.
However, also with other products for well known manufacturers like Droog Design, Magis, Flos and of course Moooi, Marcel Wanders established himself as an accepted designer among experts.
Without a doubt, in each of Wanders products there is a sense of humour, though, he draws a clear line between humour and a joke. Whereas he attributes a funny design with a shortly effect, he associates with humour an appreciated surprise and the joy of design in his products. This can be seen explicitly in the B.L.O. table lamp which he created for Flos. It can be turned on and off by blowing.
"Even without the effect that it can be turned on and off by blowing, the lamp can be appreciated as a timeless beautiful product. It is something that you do not expect, but if it is there, you'll appreciate it. An acceptable surprise. It tends to be humour but it is more joy." - is what the designer explains.
Website by Marcel Wanders