Article from the 2016-04-21, of Sabrina Pflüger
The current home design trends were presented beautifully at the world's biggest furniture exhibitions: the IMM Cologne, the Ambiente Fair in Frankfurt and the Salone del Mobile in Milan. Based on changing needs in terms of living space, function and quality of furniture, brands and designers at the trade shows give us an insight into what's coming up. From the small to the big, from accessories to furniture - the home trends for 2016 and beyond have been set.
Home Trends: Colour 2016
Alongside evergreens such as the Savoy Vase by Alvar Aalto, which was released in a fitting emerald colour this year, other classic accessories for the home and kitchen have been given a new coat of paint.
It's not just the Pantone colours of the year: Rose Quartz & Serenity - pink and soft - that are in focus. Quiet, natural colours tend to be preferred: a bright lemon yellow, muted green, light blue and a powdery pink are the colours of the year.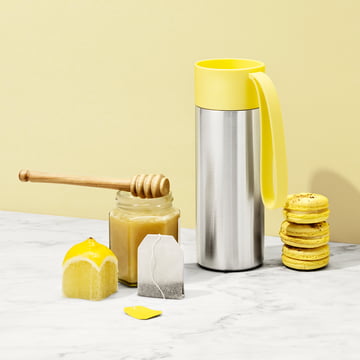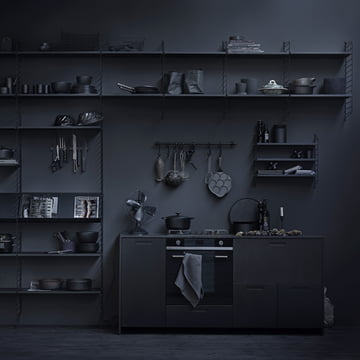 But the classic colours also remain in demand this year. True to the motto "Black is the new black", String has released its popular shelving system in a natural black stained ash variety. Introduced at the beginning of the year, the new style has a natural charm, boosted by the fact that the grain of the wood is still visible. A preference for the natural - that's a design trend that has already been dominating the design world for several years.
Hand-Made Products and Natural Materials
It is clear that the use of natural and raw materials as well as the individual production of hand-made products are all increasingly important factors for consumers, manufacturers and designers. One of the most sought-after designers of the moment and designer of "Das Haus" at IMM Cologne, Sebastian Herkner is not the only the designer to place the emphasis on handwork, for example with the new Boule Lamp by Pulpo, which uses blown glass and regionally crafted porcelain.
Other brands such as nanimarquina and Iittala, among others, rely on handwork for production. Details such as water bubbles and variations in colour and size are not manufacturing errors - as might occur in mass production - but instead a sign of craftsmanship and individuality.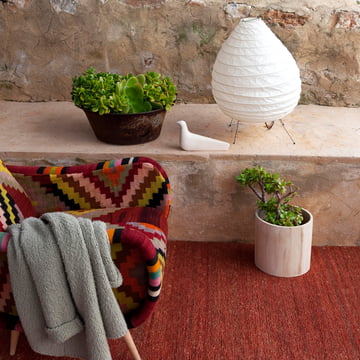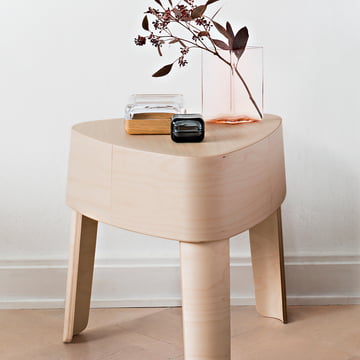 Mid-Century Design and the Desire for Authenticity
A return to traditional production methods and the desire for authentic furniture and accessories shows a clear trend away from mass consumption. It's not only the manufacturing conditions, the material and the individuality of the products that is coming more into focus. Generally, we are nostalgically yearning for times gone by. Back to a time that was full of energy and euphoria, when some of the best known design classics were created. Mid-Century Design - furniture that reflects the style of the 40s, 50s and 60s - is experiencing a revival, and has been quietly building for the last few years.
Besides design classics such as the Eames Plastic Chair, which has been given new colours, a new height and new frames, designs by icons such as Hans J. Wegner, Ferdinand Kramer, Arne Jacobsen and Bjørn Wiinblad have also been given new life.
In addition to home accessories, the focus is particularly on slim and compact sofas, designer lamps in copper, brass and other precious metals, new desk solutions that rediscover the classic secretary, and filigree coffee tables and side tables made of wood. Natural wood, elegant materials and rich colours create a homely living space, and add an appealing contrast to the until now prevalent Scandinavian minimalism, which in turn has lost nothing of its own appeal.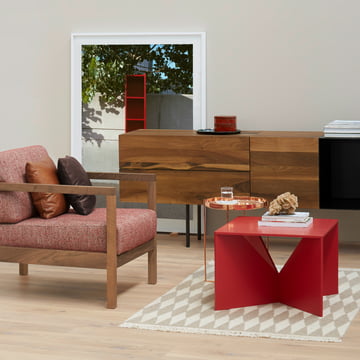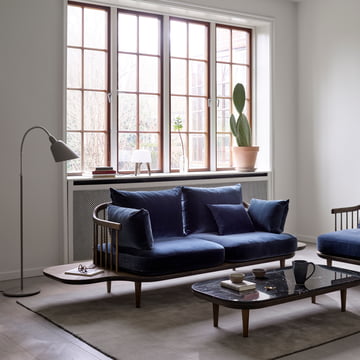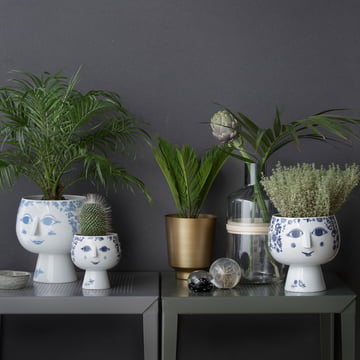 Open Space Solutions and Flexible Furniture
Due to the increasing trend of reduced living space, there is a demand for furniture that is flexible, space-saving and configurable. In addition to the ever-shrinking sofas in retro style, modular shelving systems complement the living room. The new furniture satisfies the need for individual space solutions that can be customized in size, colour and function.
Stand, hang, add and remove: Modular shelves like the Muuto Stacked, the Box System by Mater, the Ivy Shelf by Tylko, New Order by Hay and the screwless YU Shelf by Konstantin Slawinski , allow the shelves to be put together like building blocks. Multi-functional furniture that can be used as a room-divider, sideboard and storage solution is in demand like never before. New designer furniture must be as flexible as we are.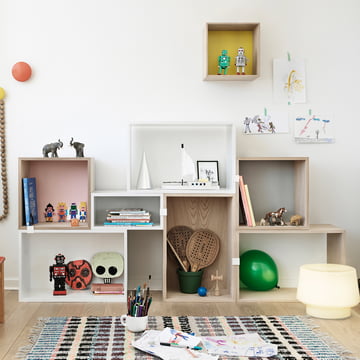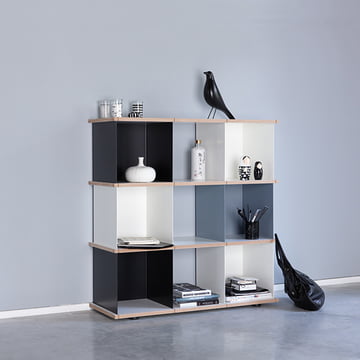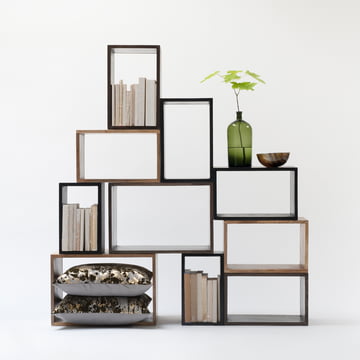 Indoor Gardening and Outdoor Furniture
The mix Mid-Century and Scandinavian design is complemented by plants. Vases, flower pots and hanging baskets give you a little piece of nature in your own four walls. The new trend of indoor plant pots is especially popular in cities, where garden space is limited but a fresh bit of green is still appreciated. Vertical and indoor gardening are the key words that fit with the trend of in-home gardening. As with modular furniture, surfaces and living space are maximised with hanging baskets and wall fixtures. The plants are more than just a decorative eye-catcher - they also reflect the desire for naturalness and craftsmanship.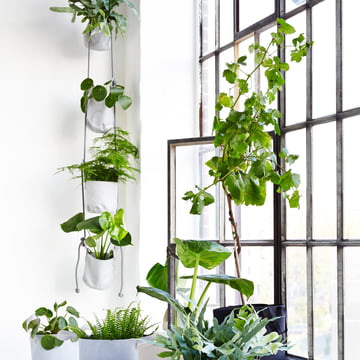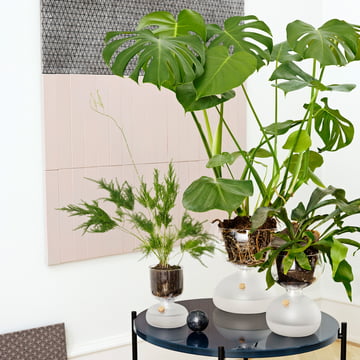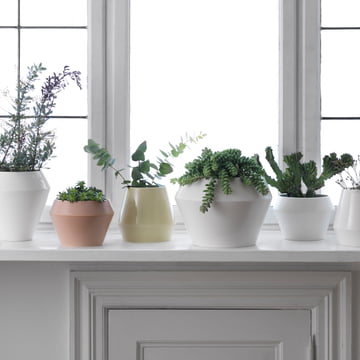 Those of us who have the luxury of a private garden or balcony are perhaps less enthralled by the indoor gardening trend, instead preferring to spend time outside in their own world of green. The new outdoor furniture is ideal for this, with comfortable sofas and armchairs that bring the lounge feeling outdoors. For maximum flexibility with minimal storage space, the furniture can be used both indoors and outdoors, or even both if necessary. Among others, the Belleville Collection by the Bouroullec brothers and Vitra's White Collection have set the bar for the outdoor furniture trend.
Home Trends 2016 - A Summary
The exhibition trends and fashions in home design in 2016 are building on styles that have been growing in popularity over recent seasons. Like every year, different trends in colour set the tone and allow long-established classics to shine in a new light among the new design innovations. In the living area, a clear trend towards naturalness and mid-century or retro design has been established: whether it be kidney-shaped tables, secretaries, light love-seats and chairs with velvety fabrics, or home accessories in a metallic design. But whether entirely new, re-edited or adapted - the shapes remain as subtle as usual, but delight at the same time with new materials, surfaces and practical multi-functionality.