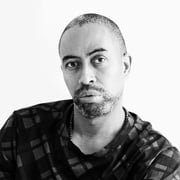 Independent designer with pluralistic design vision
Stephen Burks describes himself both as a traveler and a designer. Independently and through collaboration with the non-profit organizations Artisanías de Colombia, Clinton Global Initiative, Design Network Africa and Nature Conservancy, he is a product development consultant in Australia, Colombia, Ghana, Haiti, India, Indonesia, Kenya, Mexico, Peru, the Philippines, Rwanda, South Africa and Senegal. With his design studio "Stephen Burk's Man Made" in Brooklyn, New York, he creates products for renowned manufacturers such as BD Barcelona, Cappellini, Calvin Klein, Estée Lauder, Luceplan or Missoni, thus combining design objects with traditional production methods of the respective countries.
Stephen Burks believes in a pluralistic design vision that encompasses all cultural perspectives. His ongoing social project bridges the gap between authentic development in craft industries, industrial manufacturing and contemporary design.
His intercultural work has been awarded numerous prizes and his objects can be found in museums and exhibitions around the world.
Website by Stephen Burks