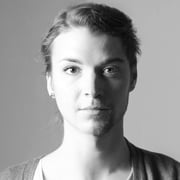 Effective and Easy to Use Products with Added Value
Martha Frieler and Matthias Lauche are both born in 1984 and have studied product design at the University of Hanover, Germany. They organised their studies very versatile and during this time developed a feeling for the appreciation that a designer should give his or her products. They also both dealt with the design of other cultures, new technologies and possibilities and got inspired by travelling the world.
Martha and Matthias met each other in 2006. In 2012, the product design duo eventually founded their business with the slogan - "We are hungry for design". They are the founders of the design agency form|knast - The German words "knast haben" are translated with "being hungry". Hungry for something new, exciting and innovative – especially for design products.
The motto "Different is the new Good" reflects the product world of young designers perfectly. Martha and Matthias develop exciting and diversified concepts. Creativity can run free and fresh ideas are being focused on. The result are often products created in a short mood or out of inspiration. The design language is clear and reduced, without being boring.
Form|knast develops diversified products that both are effective and user friendly, having added value.
Website by form|knast