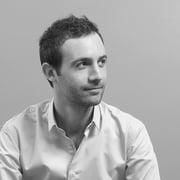 Parisian Design with Milan Nuances
Guillaume Delvigne is a French designer who was born in 1979. He studied in Nantes and Milan and after graduating in 2002, he started to work for the studion by George Sowden, one of the co-founders of the Memphis movement. At the same time, he desigend objects for the Italian label Industreal. In 2004, he moved to Paris and worked for renowned design studios in the city for several years.
In 2011, he finally ventured a step and founded his own design studio. Ever since, he designs and works for French and international companies like Tefal, Hermès, Veuve Clicquot, La Redoute, Fabbian or Habitat and helps young companies such as La Chance or Oxyo and Hartô to build up a reputation.
Website by Guillaume Delvigne