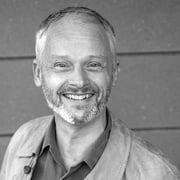 Recyclable and Environment-conscious Design from Sweden
Jonas Torstensson's success began in 1991 with his design of the Stumpastaken candle holder from recycled aluminum, which is one of his most important designs to this day. Since then, Torstensson works with recyclable materials and eco-friendly designs.
Together with his team and his clients, he works on innovative and environmental design solutions for everyday use near Stockholm. His products are elegant and timeless and are manufactured exclusively in Sweden. This way, design objects are created from recycled and recyclable materials which are produced in Swedish craftsmanship and they even spare the environment, thanks to low transport costs and short transport routes.